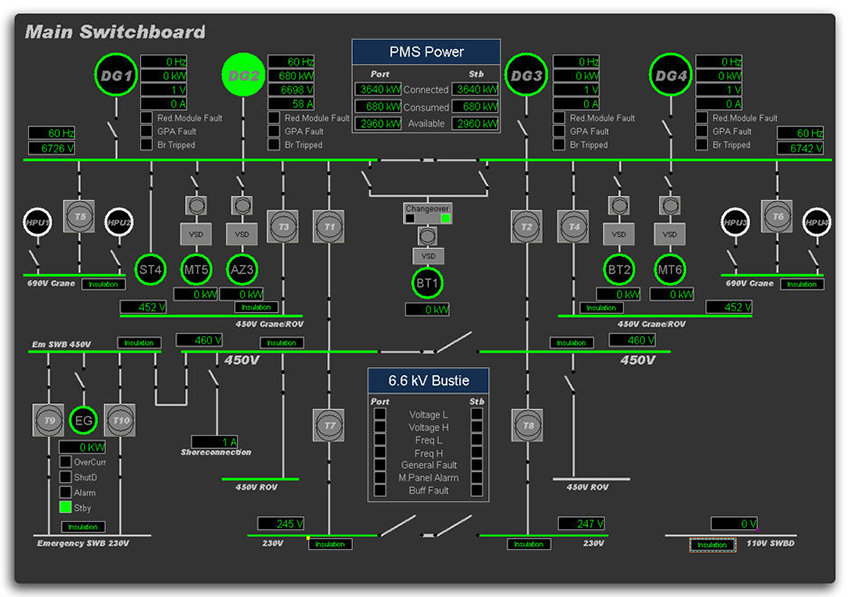 Electricals
We have track record of technology leadership, project execution excellence, customer care and driving green initiatives for electrical products like
Electricals:
Shipboard power is generated using a prime mover and an alternator working together. The Power Distributed on board a ship needs to be supplied efficiently throughout the ship. For this the power distribution system of the ship is used.
The main elements of a marine distribution system are the main and emergency switchboards, power panel boards, motor controllers, lighting and small power panel boards. The system is generally designed such that under all normal conditions of operation, power is distributed from the main switchboard. The distribution system is designed to keep cable costs to a minimum by distributing to power panels located close to the user services.
The main switchboard is generally located near the centre of the distribution system and this is normally the main engine room or machinery control room. These locations are normally below the ship's waterline or below the uppermost continuous deck of the ship i.e. the bulkhead or main deck. Consequently, in the event of a fire or flooding it is likely that the main generators and switchboard would be disabled. To ensure that electrical supplies are available to emergency and safety systems, an emergency generator and associated emergency switchboard will be located above the main deck in a separate space, completely isolated from the main machinery spaces
Splash marine provide services for following system.
Switchboards
Starters& VFDs
ACB Switchgears
MCB Switch
Timer& Relay
Electric Motors
PC Controllers
Electric Panel
SMPS & Power Supply
Counters
Contactor
AC Drives